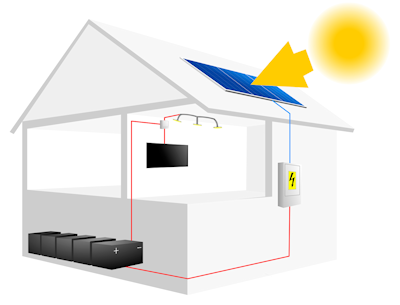 Thinking about buying an off grid system.
These are the questions you need to ask:

Can I get rebates for my system?

Who will install my Off Grid Solar System?

Am I sure that I will be able to find a reliable/competent CEC Certified installer to install equipment supplied by others?

Will it be difficult to deal with a separate supplier and installer?

Does an installer take as much care when installing a system supplied by others?

Is it better if the business that supplies the system, also installs the system?

Is this a quality system? What about equipment support/upgradeability and longevity?

Do I have the tools to effectively manage my Solar System and energy usage?

Do I need a generator, what size/type generator do I need?

Am I lithium ion battery future proofed?

Who honours the warranties of the systems and installation?
Rebates: Why miss out on rebates?, Let us install your Off Grid Solar System. The rebates are then offset against the cost of your fully installed system.
Installation: We install the Off Grid Solar System for you, this ensures that it is installed safely, correctly (producing maximum yield, is configured correctly, prolonging system and battery life), warranties are honoured and regulations are complied with (allowing rebates to be claimed). We install the monitoring tools, in a handy location, to help you manage/monitor your energy usage. Daytime energy usage is normally not a problem, the sun is shining, your solar system is producing excess power, it is now time to use the breadmaker, slow cooker and washing machine.
About our systems: We have carefully designed a system that is affordable, reliable, manageable, able to be accurately monitored, upgradable and suitable for Off Grid use.
Inverter/Charger and Solar Charge Controller: We use a Victron Energy Inverter/Charger and Solar Charge Controller in this off grid system. Victron provides undisputed quality/performance, the are (lithium Ion Battery compatible), with, generator input and generator assist. They are a European Company (Dutch) and provide a 5 year warranty.
Batteries: An off grid solar system does need batteries. In the interim we recommend Lead Acid, Wet Cell, deep Cycle Trojan battries, world's biggest manufacturer of deep cycle lead acid batteries (USA Made), tried and tested over many years. This system has 12kWh energy storage capacity, it is designed to provide 2.4kWh of "overnight energy" @ 20% Depth of Discharge, this should allow the battery life to reach around 3000 cycles. An efficient Fridge/Freezer, LCD TV, LED Lights and computer/modem/satellite receiver should be able to operate within this 2.4kWh overnight budget. Occasional discharge down to 50% discharge can be tolerated. This can change as lithium ion or other battery chemistries become more affordable. Daytime energy usage is normally not a problem, the sun is shining, your solar system is producing excess power, it is now time to use the breadmaker, slow cooker and washing machine.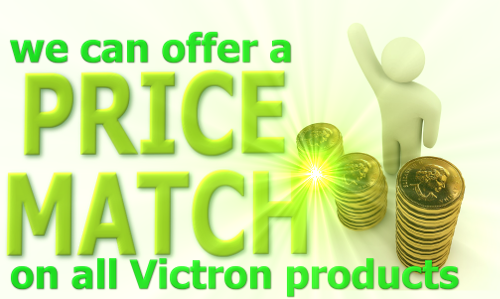 Monitoring Battery: Battery Monitor (can be installed inside/convenient location) shows the accurate state of charge of your batteries, charge/discharge currents, historic data logging, also shows on Smart Phone with Bluetooth. No surprises, know what your system is doing.
What about generators? As with most off-grid systems you may have to run your generator, after extended heavy cloudy days. The Victron equipment that we install, intelligently manages your generator input power/battery charging/loads, preventing generator overloads/tripping. This means that you do not need a large generator.
Upgrades/Support/Protecting your investment: Your initial investment need not be wasted if you decide to increase the capacity of your Off Grid System. Additional Victron Inverter/Chargers, charge controllers, batteries and Solar Panels can be added to increase the capacity of your system. Many Off-Grid Solar Systems do not have this flexibility. You are not tied to only Lead Acid Battery Chemistries, the Victron Multiplus Inverter/Charger is Lithium Ion battery compatible.
(after the rebate has been used to offset the cost of your Off Grid Solar System), This offer is only available within a 200km travel distance from Brisbane or Bundaberg).
We love custom designed off grid solar systems too, Please call 1300 LOG ENERGY, or email sales@logenergy.com.au or click here to contact us.