The Victron EasySolar 24/1600/40-16 (All in one, with built in Solar Charge Controller and AC distribution)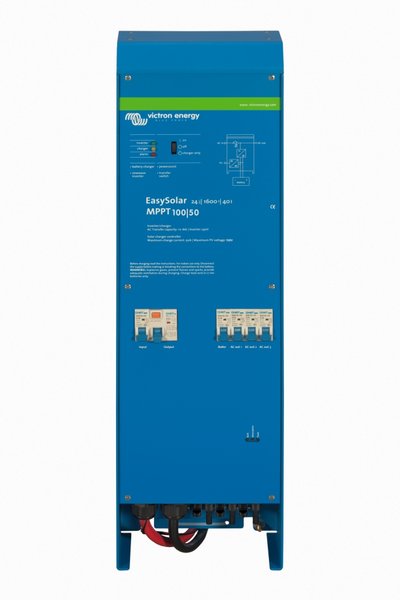 The Victron EasySolar 24/1600/40-16 (All in one, with built in Solar Charge Controller and AC distribution)
The Victron EasySolar 24/1600/40-16 is another example of a robust, reliable, intelligent, pure sine wave inverter, battery charger and MPPT Solar Charge Controller from the European (Dutch) company, Victron Energy. The EasySolar equipment is ideal for Off Grid living. The Victron EasySolar is ideal for installation in your RV, boat, small house or cabin. It also has a five year warranty.
The Victron EasySolar 24/1600/40-16 MPPT 100/50 Inv./Solar-Charg. Combi is an all in one solar power system. It has a very efficient Solar MPPT Charge Controller, an Inverter Charger and AC distribution, with RCD protection all contained within a single enclosure. The In-Built Solar Charge Controller and the batteries share the same battery cable. This goes a long way in helping to simplify the installation, using fewer installation materials, reducing costs and saving on installation time.
The batteries (24V) can be charged with solar power, using the in-built BlueSolar MPPT Solar Charge Controller, or with AC power from the utility grid (shore power), or a generator.
There are four AC outputs, included in the enclosure, protected by two 10A and two 16A circuit breakers. One 16A output is controlled by the AC input, it will switch on, only when AC is available, this is used to connect non essential loads that only need power when the EasySolar is connected to the grid (shore power) or a generator.
The Victron EasySolar Inverter Charger with built in MPPT Solar charge Controller also has unique PowerAssist technology. This protects the utility (Grid or Shore AC supply) or generator supply from being overloaded, by adding extra inverter power (from the batteries), when needed.
This Victron EasySolar Inverter Charger can provide surge power of up to 3000W, this is very useful when difficult inductive loads, requiring large start-up currents, such as electric motors, found in Fridge/Freezers and water pumps, are starting up.
It is a good idea is to use a Victron Battery Monitor and a Bluetooth Smart Dongle to manage and monitor your energy usage and battery state of charge.

Specifications:
Rated charge current (Inverter Charger): 40A
Maximum Charge Current (MPPT 100/50 Solar Charge Controller): 50A
Transfer Switch (AC): 16A
Cont. output power at 25°C (VA): 1600
Cont. output power at 25°C (W):1300
Peak power (W): 3000
Dimensions: (hxwxd in mm) 745 x 214 x 110
Weight in kg: 15
Please see the Victron Energy website for full specifications.