Trojan 27- AGM Deep Cycle 12 Volt 99 Amp Hours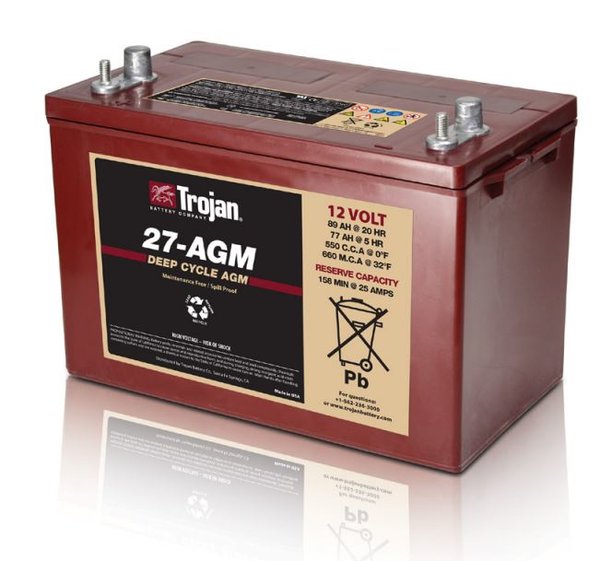 Trojan 27- AGM Deep Cycle 12 Volt 99 Amp Hours
We recommend this, as the battery to use when you need reliable electrical power for your fridge and other electrical appliances while on the move.
The Trojan 27-AGM Deep Cycle battery can be used as a very reliable "motor home", RV Deep Cycle Battery. Delivering 660 Cranking Amps at 0 degrees Centigrade, makes it suitable to be used as a Back-Up Starter Battery as well.
It has a design life of 10 years. Self- Discharge Rate is very low (less than 3% per month, depending on temperature). It can be used in renewable energy systems, or to deliver standby power.
The battery has automotive terminals and (5/16)-18 threaded bolt connections (for accessories). Trojan's AGM batteries are Valve Regulated, do not require topping up with water, spill proof and come in a maroon case made of polypropylene.
Trojan Batteries are a reputable, reliable, well-known brand, tried and tested since 1925, made in the USA and Trojan is ISO 9001 Quality Certified.
Specifications
12 Volts
89 Amp-hours at the 20 hour rate
99 Amp-hours at the 100 hour rate
Dimensions in mm: 306 (L) x 174(W) x 237(H)
Weight in kg: 29 KG
Click here to read the data sheet for the Trojan27-AGM
Click here for a short video about Trojan Batteries