Trojan 27- Gel Deep Cycle 12 Volt 100 Amp-Hours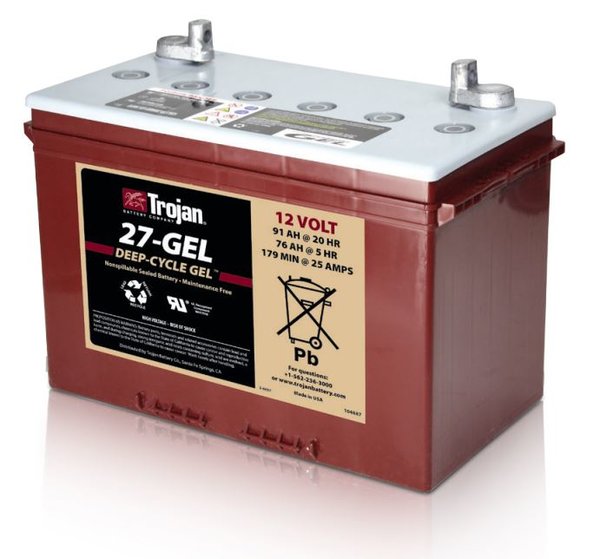 Trojan 27- Gel Deep Cycle 12 Volt 100 Amp-Hours
The Trojan 27-GEL Deep Cycle battery is suitable for use in RV's, providing power to appliances, such as fridges, lighting etc. These batteries can also be used in Renewable Energy Applications, such as solar.
Self- Discharge Rate is very low (less than 3%, per month, depending on temperature). This means that the battery can be left unused for a few months, without discharging to a level that will cause harm to the battery, shortening its life.
Trojan's GEL batteries are Valve Regulated, Spill Proof, do not require topping up with water and come in a maroon case made of polypropylene.
Trojan Batteries are a reputable, reliable, well- known brand, tried and tested since 1925, made in the USA and the Trojan Battery Company is ISO 9001 Quality Certified.
Specifications
12 Volts
91 Amp-hours at the 20 hour rate
100 Amp-hours at the 100 hour rate
Dimensions (in mm): 323(L) x 162(W) x235(H)
Weight in kg: 28kg
Click here to view the Trojan 27-Gel Data Sheet