Trojan SCS225 12V Deep Cycle Battery 144 Amp-Hours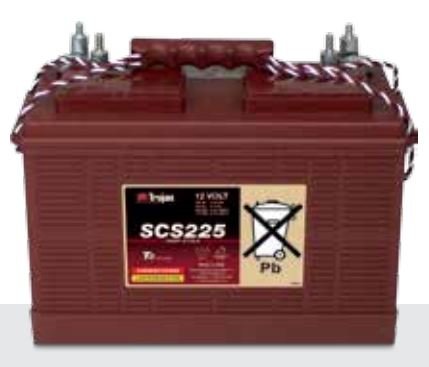 Trojan SCS225 12V Deep Cycle Battery 144 Amp-Hours
The Trojan SCS225 Marine/RV Deep Cyle Battery, will keep you moving on the water and out. Spend more time enjoying life and less time fussing about power, with this great 12 Volt power house.
The SCS225 can be used as a backup starter battery, as well as a Deep Cycle Battery (powering your Boat/RV accessories), capable of delivering 650 Cranking Amps at 0 degrees centigrade. These batteries have handles for easy lifting in tight spaces and dual marine terminals to connect all your electronic equipment.
Trojan's proprietary Maxguard Advanced Design Separator and exclusive Alpha Plus paste formulation is used to increase battery life, extend run time and decrease maintenance.
Trojan Batteries are a reputable, reliable, well- known brand, tried and tested since 1925, made in the USA. The Trojan Battery Company is ISO 9001 Quality Certified.
Specifications
12 Volts
130 Amp-hours at the 20 hour rate
144 Amp-hours at the 100 hour rate
Dimensions in mm: 354 (L) x 171(W) x 253(H)
Weight in kg: 30 KG
Click here to read the data sheet for the SCS255
Click here for a short video about Trojan Batteries