Trojan T-105 6V Deep Cycle (Golf Cart and more) Battery 250 Amp-Hours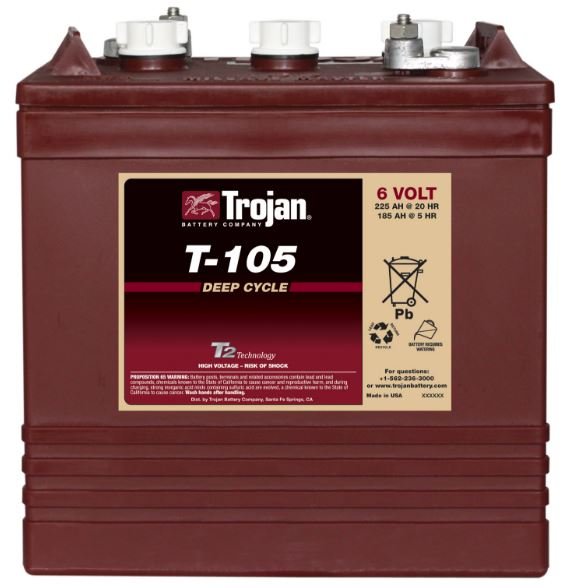 Trojan T-105 6V Deep Cycle (Golf Cart and more) Battery 250 Amp-Hours
Power! Lots of power for it's price.
Golf carts, recreational vehicles, marine and even industrial machinery... the list of uses for this battery is almost endless. This Battery is often seen as the benchmark, with other manufacturers trying to produce equivalents.
It is often used to provide energy storage for smaller off-grid homes and weekend cabin solar systems. Using the Trojan T105 is one of the most cost effective ways to store energy produced by your solar system.
Trojan Batteries are a reputable, reliable, well- known brand, tried and tested since 1925, made in the USA and Trojan is ISO 9001 Quality Certified.
Think you found a better price on this battery? Contact us
This Trojan T105 Deep Cycle Battery is a member of the Trojan Signature Line family.
The Signature Line of deep-cycle flooded batteries is the flagship of Trojan's product portfolio. Engineered to provide rugged durability and outstanding performance, Trojan's Signature Line is perfectly suited for use in renewable energy systems where lowest life-cycle cost is the key consideration. An all-around power house, the Signature Line features Trojan's historically-proven engineering with T2 Technology™, an advanced battery technology for maximum sustained performance, longer life and increased total energy.


Specifications
6 Volts
225 Amp-hours at the 20 hour rate
250 Amp-hours at the 100 hour rate
Dimensions in mm: 262(L) x 181(W) x 283(H)
Weight in kg: 28 KG
Click here to read the data sheet for the T-105
Click here for a short video about Trojan Batteries