Victron Battery Monitor BMV700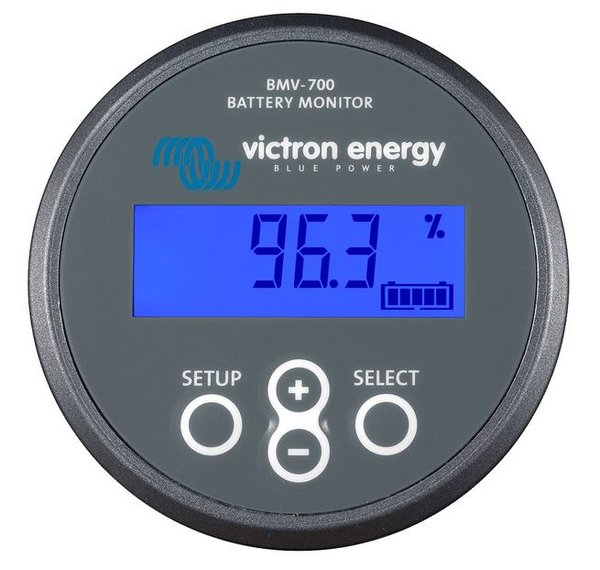 Victron Battery Monitor BMV700
This should be a very essential part of any Battery Energy Storage System (Solar PV, 4WD Dual Battery, RV/Marine House Battery or Standby/UPS Batteries). Not having a Victron Energy BMV-700 series Battery Monitor is like driving a car without a fuel gauge. In many cases equipment shutdown/failure due to low battery voltage means that your batteries are being run down too low (Cycled too deeply). This causes damage to your batteries and reduces battery life. It is also a major inconvenience, when your equipment shuts down unexpectedly. The Battery Monitor reports the State of Charge, number of ampere hours added to and removed from your batteries (As well as other useful data). This allows you to monitor the health of your batteries and take remedial action, if required (start a generator, connect an AC Charger, shed some load, to name a few).
This is another quality product from Europe, with a 5 year Victron Energy Limited Warranty.
The Victron Energy BMV-700 series Battery Monitor is ideal for use in Marine/RV/4WD and Renewable Energy (Solar) applications, to monitor batteries (often the most expensive/vulnerable part of your system).
A separate device (The Victron VE.Direct Bluetooth Smart dongle) can be used to display useful information about your Victron Energy BMV-700 series Battery Monitor on your IOS or Andriod device (Smartphone/Tablet).
Click here for the Victron VE Direct Bluetooth Smart Dongle
Specifications: Supply voltage range: 6.5 – 95 VDC
Battery capacity (Ah): 20 - 9999 Ah
Temperature measurement range: -20 +50°C
Includes a 500A/50mV shunt
See the Manufacturer's website for complete Data/Specification sheet.
https://www.victronenergy.com/upload/documents/Datasheet-BMV-700-series-EN.pdf