Victron Blue Power IP22 Charger 12V 30A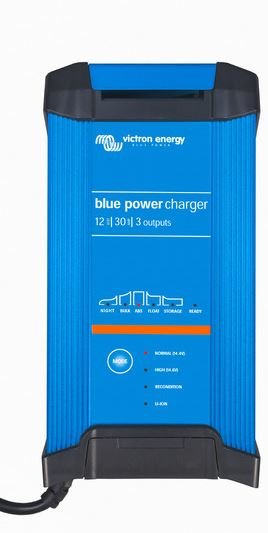 Victron Blue Power IP22 Charger 12V 30A
If we look after our batteries they should not let us down (especially if they are good quality established/reliable brands). One way to do this, is by ensuring that they get a regular charge with a quality multi-stage, temperature compensated charger, capable of charging the battery type we use (Gel, AGM, Lithium Ion, Wet Cell, etc.)
Standard Vehicle Alternators, designed for charging Starting Batteries, often under-charge Deep Cycle Batteries. This results in reduced battery capacity, causes damage to your Deep Cycle Batteries, which then reduces the life of your batteries. It is an inconvenience, when your equipment/appliances shut-down unexpectedly due to insufficient battery capacity. A good Battery Charger is a worthwhile investment.
The Victron Energy Blue Power IP22 (12V/30A) has temperature compensated, multi-stage charging and is ideal for charging and maintaining the charge of your batteries. It even has a "Night Mode", which can be turned on when complete silence is needed, handy when you want to get some sleep while your charger is charging your battery in the Caravan/RV/Boat or 4WD.
The charger can also be used as a DC power supply, supplying DC loads, even when no battery is connected.
This is another quality product from Europe, with a 5 year Victron Energy Limited Warranty.
Specifications :
Voltage: 12V
Current: Charge Current, normal mode 30A
Charge algorithm: 6-stage adaptive
Indoor use only (IP22)
Dimensions in mm : 235(h) x 108(w) x 65(d)
Weight: 1.3kg
See the Victron Energy website for complete Data/Specification sheet.
Victron Blue Power IP22 Battery Charger Data/Spec Sheet