Victron BlueSolar Charge Controller MPPT 150/70 (For charging of 12/24/36/48V Batteries)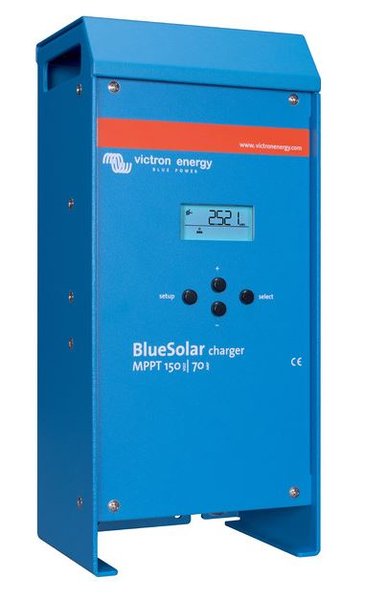 Victron BlueSolar Charge Controller MPPT 150/70 (For charging of 12/24/36/48V Batteries)
The Victron BlueSolar Charge Controller MPPT 150/70 is ideal for house, holiday cabin, marine and RV Off Grid Solar Systems, to charge 12,24,36 or 48 Volt Batteries, using the sun's energy.
This is another quality product from Europe, with a 5 year Victron Energy Limited Warranty.
The BlueSolar Charge Controller uses Ultra-Fast Maximum Power Point Tracking (MPPT) to improve energy harvest from the sun. This is beneficial, especially in cloudy/Partial Shading conditions and results in increased energy harvests of up to 30% when compared to PWM Charge Controllers and 10% when compared to slower MPPT Controllers.
This is an intelligent Multi-stage MPPT Solar Charge Controller, capable of maintaining battery life by
Using several preconfigured algorithms. One user programmable algorithm.

Manual or automatic equalisation.

Battery temperature sensor. Battery voltage sense option
This Victron Inverter has a battery charge current of up to 70A and PV Voltage up to 150V, it
automatically adjust to a 12, 24 or 48V nominal battery voltage. The Inverter also has Ultra-fast Maximum Power Point Tracking (MPPT)
and Advanced Maximum Power Point Detection in case of partial shading conditions.
Specifications:
Rated charge current: 70A
Maximum PV power, 12V: 1000W
Maximum PV power, 24V: 2000W
Maximum PV power, 36V: 3000W
Maximum PV power, 48V: 4000W
Maximum PV open circuit voltage: 150V
Efficiency at full load: 12V: 95% / 24V: 96,5% / 36V: 97% / 48V: 97,5%
Dimensions: (hxwxd in mm) 350 x 160 x 135mm
Weight in kg: 4.2
From the Manufactures website
Manufacturer's Data/Spec Sheet
Overview of BlueSolar Charge Controllers MPPT