Victron BlueSolar Charge Controller MPPT 75/15 (For charging of 12/24V Batteries)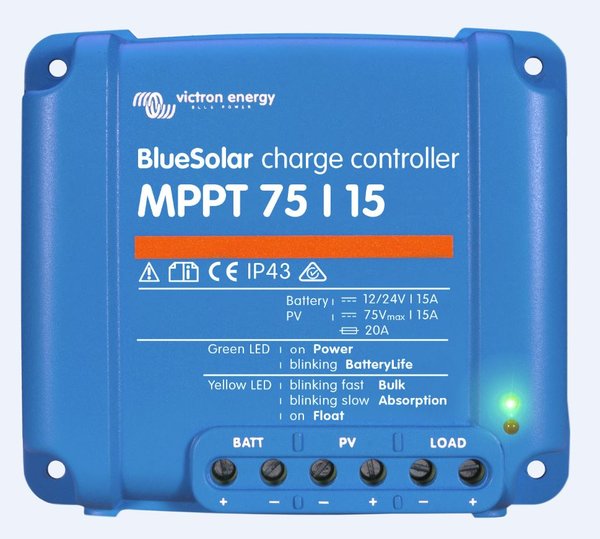 Victron BlueSolar Charge Controller MPPT 75/15 (For charging of 12/24V Batteries)
The Victron BlueSolar Charge Controller MPPT 75/15 is ideal for use in Marine/RV/4WD Renewable Energy (Solar) applications, to charge batteries, using the suns energy.
The BlueSolar Charge Controller uses Ultra-Fast Maximum Power Point Tracking (MPPT) to improve energy harvest from the sun. This is beneficial, especially in cloudy conditions and results in increased energy harvests of up to 30% when compared to PWM Charge Controllers and 10% when compared to slower MPPT Controllers.
This is an intelligent Multi-stage Adaptive MPPT Solar Charge Controller, capable of maintaining battery life by
Disconnecting loads connected to the Load Output of the Charge Controller when the battery is discharged to a pre-set voltage (Discharging the battery too deeply shortens it's life)

Uses a "Battery Life Algorithm" to manage the connected battery State of Charge, this maximises the potential for the battery to reach a 100% State of Charge (Lead Acid Batteries have a greatly reduced lifespan when operating in a Partial State of Charge)
A separate device (The Victron VE.Direct Bluetooth Smart dongle) can be used to display useful information about your BlueSolar Charge Controller (such as solar panel power production) on your IOS or Andriod device (Smartphone/Tablet).
Click here for the Victron VE Direct Bluetooth Smart Dongle
This is another quality product from Europe, with a 5 year Victron Energy Limited Warranty
Specifications:
Rated charge current: 15A
Maximum PV power, 12V: 200W
Maximum PV power, 24V: 400W
Max. PV short circuit current: 15A
Maximum PV open circuit voltage: 75V
Peak efficiency: 98%
Dimensions: (hxwxd in mm) 100x113x40
Weight in kg: 0.5
Manufacturer's Data/Spec Sheet
Overview of BlueSolar Charge Controllers MPPT