Victron MultiPlus Inverter/Charger C 24/1600/40-16 - 230V (this is a 24V model, 12V Model is shown in the image)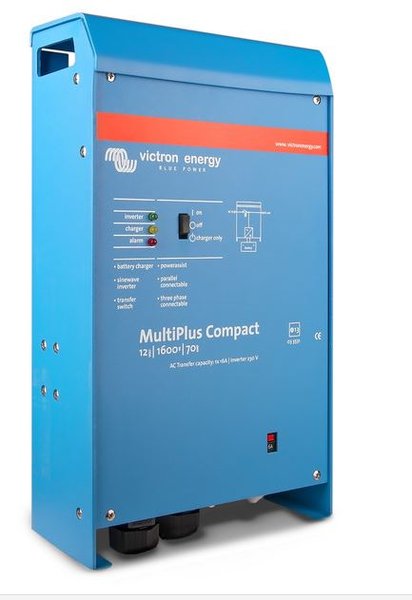 Victron MultiPlus Inverter/Charger C 24/1600/40-16 - 230V (this is a 24V model, 12V Model is shown in the image)
The Victron MultiPlus Inverter/Charger C 24/1600/40-16 - 230V is a high quality, reliable, efficient, feature rich, well supported, versatile, tried and tested, European Inverter/Charger, with a 5 year warranty, that can be used in your house, cabin, RV or boat. It is a pure sine wave inverter and a powerful battery charger, that can be connected to shore power or a generator. The Inverter/Charger provides Off Grid Power, when there is no shore power or generator input. Change over from shore power or generator power to battery/Off Grid Power is fast (less than 20 milliseconds). This means that computers and other devices continue to operate without any disruption. This Victron Multiplus Inverter/Charger allows difficult loads, such as inductive motors in fridge/freezers/water pumps to start without a problem because it can supply surge power of up to 3000W.
Many Victron Multiplus Inverters (up to six of the same type) can be connected together in parallel to provide much higher output power. Three Victron Multiplus Inverters of the same type can also be connected to provide a three phase supply, This Victron Multiplus Inverter/Charger should be connected to a 24V battery bank.
The Victron Multiplus Inverter has a very useful feature called "Power Assist". This feature ensures that not too much power is drawn from the input AC supply (causing tripping). This feature also allows some power to be supplied from your batteries as well as the generator/shore power, when extra power is needed by your AC loads. This means that a smaller capacity generator or shore power input supply can be used to charge batteries and supply AC power to your loads.
It is a good idea to use a Victron BlueSolar Charge Controller when using the sun and solar panels to charge your batteries. Another good idea is to use a Victron Battery Monitor and a Bluetooth Smart Dongle for monitoring the output of your solar array and checking your battery state of charge.
Specifications:
Rated charge current: 40A
Transfer Switch (AC): 16A
Cont. output power at 25°C (VA): 1600
Cont. output power at 25°C (W):1300
Peak power (W): 3000
Dimensions: (hxwxd in mm) 375 x 214 x 110
Weight in kg: 10
From the Manufactures website