Victron Phoenix Inverter 12V 800VA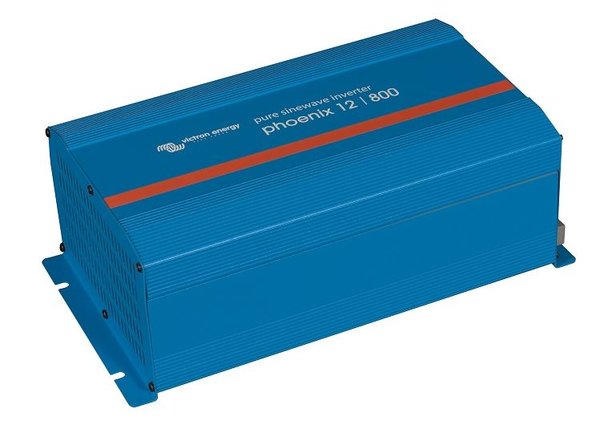 Victron Phoenix Inverter 12V 800VA
This is a top quality pure sinewave inverter, capable of providing power to sensitive electronic devices without causing damage.
It can accommodate a surge of up to 1600 Watts. This comes in handy when starting up difficult loads, such as small efficient modern mobile compressor fridge motors, small power tools and computers. Many other High Frequency Inverters are not capable of providing such high surge/start-up power. There is a Low battery shut down and Low Battery alarm, which helps protect your battery. This European Inverter is suitable for RV/4WD, Marine and small Off Grid Solar applications, it is compact, lightweight and backed by a 5 Year Limited Warranty.
Dimensions: (hxwxd in mm) 104x194x305
Weight in kg: 6.5
Click here for the Victron Phoenix Inverter 12V 800VA Spec/Data Sheet
Below is a Quote about the Victron Phoenix 12/800 Inverter from the Victron Energy Website.
https://www.victronenergy.com/upload/documents/Datasheet-Phoenix-Inverter-180VA-1200VA-EN.pdf
SinusMax – Superior engineering
Developed for professional duty, the Phoenix range of inverters is suitable for the widest range of
applications. The design criteria have been to produce a true sine wave inverter with optimized
efficiency but without compromise in performance. Employing hybrid HF technology, the result is a
top quality product with compact dimensions, light in weight and capable of supplying power,
problem-free, to any load.
Extra start-up power
A unique feature of the SinusMax technology is very high start-up power. Conventional high
frequency technology does not offer such extreme performance. Phoenix Inverters, however, are
well suited to power up difficult loads such as computers and low power electric tools.